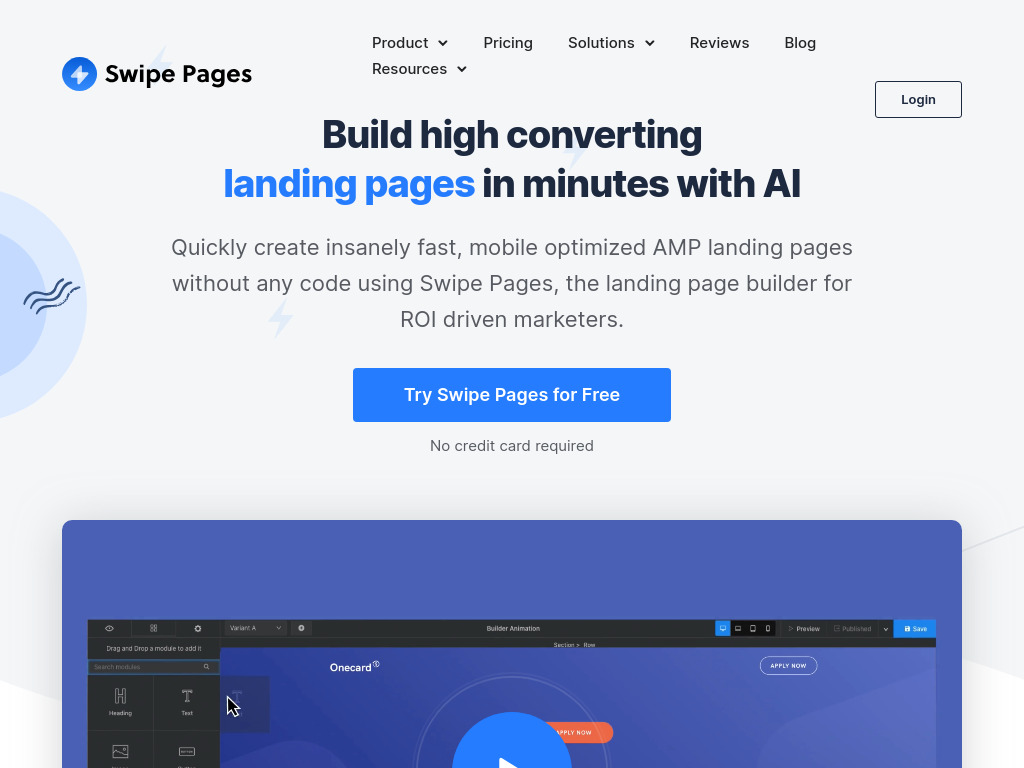 Attention – Landing Page / Lead Generation Marketer, Online Marketer, Anybody Looking To Generate Leads
Create Mobile-First Landing Pages Using The Most Trusted Landing Page Builder
Make Your Landing Page Look Like An App Using Swipe Pages Drag & Drop Editor
CNBC reported a 75% decrease in mobile page load time for AMP Pages over non-AMP pages, Gizmodo reported that AMP pages loaded three times faster than non-AMP pages. (en.wikipedia.org)
According to data collected by Google and SOASTA 40% of consumers leave a page that takes longer than three seconds to load. (instapage.com)
Landing pages are essential tools for marketing and conversion optimization. However, creating them takes time and expertise.
AMP ready Landing page creation should be simple. But it often isn't.
With Swipe Pages, you can quickly create responsive landing pages for the web and AMP (Mobile) with no coding required. Just drag and drop elements like forms, buttons, images, videos, and more onto a blank canvas. Then customize the layout with CSS or use pre-built templates. No HTML skills are needed.
It's More Than Just A Drag & Drop Editing
Their drag and drop tool allows you to build and edit landing pages quickly and easily no matter your skill level.
Easy to understand interface and simple to use if you are a beginner and powerful enough for professionals to turn any design into reality.
Drag & Drop editing makes building and designing websites easier than ever, which mean you can create stunning web pages within minutes
You can choose from: Multistep forms & image carousels, pricing tables and more from their list of 25+ professionally made modules, which lets you create advanced landing pages without writing a single line of code that makes your life easier.
This means you save time and money by building great looking landing pages at the click of a button, meaning you'll always look professional and increase conversion rates.
And there is more:
40+ Templates
80 + Building Blocks
1000+ Google Fonts (Responsive Typography, Font Styles, Font size: PX, EM, REM)
Colour Swatches & Gradient Colours
Unsplash Images, Icon Library, SVG support, Parallax Effect, Video Background, Blend Modes, Lightbox support, Animations & More
Count Down Timers
Responsive Breakpoints
You can create landing pages that offer your users an optimal user experience across all devices and screen sizes. Easily create responsive websites that look great on any device. (Desktops, Laptops, Tablets & Mobiles.) which mean you don't have to worry about creating multiple versions of your site
Clone / Duplicate Pages
Swipe Pages makes it easy to clone or duplicate your landing pages with just a single click. So you can easily template existing pages with new content which mean you don't have to repeatedly create new pages from scratch and keep everything consistent across your landing pages.
Stress-Free Hosting, Reliability & Security
The last thing you want is the pain of renewing SSL certificates every 3-months, having an unsecured connection message or worrying about server configurations and security.
Just like the most trusted landing page, builders Swipe Pages have all bases covered in this aspect.
Swipe Pages Offer:
Free SSL
Performance Optimization
Redundant & Reliable
Custom Domain
Publish landing pages to your domain and keep the URL's consistent with your brand. So that you don't have to messy or long URL that doesn't match your brand which makes your page more trustworthy.
CDN
They have a global network of over 40 PoP's for your landing pages so your landing page loads as fast as possible worldwide which mean your customers are happy and ready to purchase from you.
Reliable Cloud Servers
Hosted on the like Amazon AWS & Digital Ocean to ensure your experience with Swipe Pages is fast & reliable.
AMP-up conversions with Swipe Pages
AMP (Accelerated Mobile Pages) are served from Google's cache and are pre-loaded to provide an instantaneous loading experience for users. Which means you can load up to 10x faster than non-AMP sites. Meaning that your visitors will love having fast, clean experiences while browsing your site.